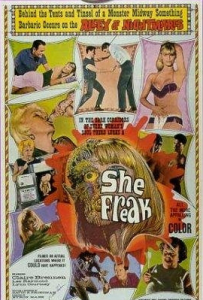 Carnival Movie She Freak
A 1960's 'cult classic' horror movie made on the California based West Coast Shows carnival midway with many great shots of the people, rides, midway games, and side shows  in operation.
In the 1960's a movie crew decided to do a low budget "B" grade movie on the West Coast Shows midway. The carnival was in it's 'Hey-Day' at the time of the filming and had been around since the early 1920's. It had just been purchased by Bobby Cohn from Mike Krekos and Louie Leahs who had owned it for many years. Bobby Cohn also purchased the 'Crafts-20-Big Shows' from the estate of Orville Craft that same year.  This massive itinerary of over 100+ rides on 5 big individual units playing class A and state fairs in California, Oregon, Washington State, Idaho, Montana, Utah, Nevada and Arizona, and a unit playing Canada's 'Prairie Fair Circut', allowed it to display one of the largest and most colorful midways in the country. It's hard to imagine from seeing this beautiful, well lit midway, that in less than 10 short years from the filming of this movie, all the equipment would be in ruins and the entire show bankrupt. The truth is,(although some wouldn't like to admit it) that some of the large, modern carnivals doing business today along the west coast of the country got their first "break" years ago booking as independents on the West Coast Shows.
The Scenes were filmed at the Bakersfield and Madeira,California Fairs ( Madeira being the winter quarters home of the West Coast Shows at that time)  I remember that it took all of about 2 weeks to shoot all the midway scenes and the quality of the movie and actors reflects it. It was certainly no "Gone With the Wind". In the opening scene a young showman by the name of Fred Neece is seen running the Ferris Wheel. He got a few bucks for playing a 'bit part' as did some others on the show. He was a great friend and a kind, soft spoken person.
The "Midway Diner" was the show cookhouse and belonged to Bobby Matthews.  He was a true showman and a good friend who's great sense of humor and generosity made him well liked by all who knew him. There are many great scenes of the show midway, Vanteen & Lee's legendary side show and shots of those individuals who played a daily part of making the big shows midway come alive and seeing them brings back many fond memories of friends on a show now long gone into show history. It is a visual window to a once magnificent midway that was home to so many of us, now, almost 50 years in the past.
I know it's 'hokey' but it's fun to watch . . . I hope you enjoy it,
'Doc' . . .
Click the link below to enjoy "The Big Show"