Carnival History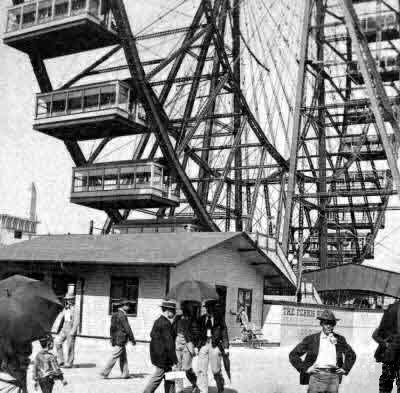 Traveling Carnivals were a favorite American pastime, even today.
Throughout the 19th century, rural North America enjoyed the entertainment of traveling carnivals. The traveling carnivals in America brought this early form of entertainment through various shows. The traveling carnivals in America would feature various shows such as a circus, vaudeville shows, minstrel shows, water shows, sideshows, music shows, magician and illusionist shows, wild west shows, patent medicine shows, thrill shows, girl shows or a magic lantern shows just to name a few.
It all began with the 1893 Chicago World's Fair as the catalyst that brought about the traveling carnivals in America. At the Chicago World's Fair, there was an avenue at the edge of the grounds called the Midway Plaisance. This avenue had games of chance, freak shows, girl shows and wild west shows (including Buffalo Bill Cody who's show was set up near the fairground).  Most games at the Columbian Exposition were located in the "Midway Plaisance", a mile long by 600 ft wide strip of the Fair that received 2.25 million admissions, an astronomical amount for the time period. The majestic decoration and feel of the Midway inspired many creations, such as Barnum's town of Oz and Walt Disney's Disney World. Some other attractions located there include the first hula dancers, belly dancers, a model of the Eiffel Tower, and the first ever ferris wheel.  Following the Chicago World's Fair, the term "midway" was adopted from the famous Midway Plaisance to denote the area at county and state fairs where sideshow entertainment was located.
The first Ferris Wheel constructed by George Washington Gale Ferris, Jr.
Otto Schmidtt, who was a showman at the world's fair, formed the Chicago Midway Plaisance Amusement Company. The company featured thirteen acts, including some from the World's Fair, and began a tour of the northeast United States as a traveling carnival. His company closed due to poor business practices before even completing their first tour. Some members of his company formed their own successful traveling carnivals after Otto Schmidtt's company closed. The appeal of this new type of entertainment was embraced. In 1902 there were seventeen traveling carnivals in the United States. The number grew to forty-six in 1905 and by 1937 there were an estimated 300 carnivals touring the country.