Historical Circus and Carnival Videos From The Past
Taking a look at the day to day life on the road with the circus and carnival videos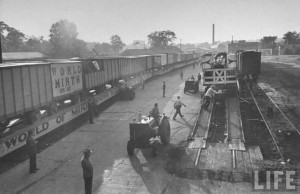 On this page, you will find some circus and carnival videos of midways, show trains and various bits that I found interesting.
Some of the following historical circus and carnival videos are Youtube videos and some are personal footage.
Be advised, some are uncensored and may contain strong language, dry humor, and occasional bad cracks.
They are the stuff of daily life in the world of outdoor show business for better or worse.
RINGLING BROTHERS BARNUM AND BAILEY UNLOADING THE CIRCUS TRAIN
Ringling Brothers and Barnum & Bailey Circus Train at Hershey, PA
Loading And Unloading The Circus Train
RINGLING BROTHERS BARNUM AND BAILEY CIRCUS TRAIN
CIRCUS TRAIN GOING THROUGH RICHFIELD. WISCONSIN
JAMES E STRATES CARNIVAL TRAIN
GIANT FERRIS WHEEL ASSEMBLY AND DISASSEMBLY
TIME LAPSE RIDE ASSEMBLY AT WEST END FAIR IN GILBERT, PA.
WADDINGTON'S WALTZER SETUP IN EIGHT MINUTES
DUNNY TUCKERS "YORKSHIRE MOVER" WALTZER SETUP
THE WALTZER
WADDINGTON'S WALTZER SETUP IN EIGHT MINUTES
THE HARTFORD CIRCUS FIRE JULY 6,1944
1944 CIRCUS FIRE
BIG JOHN STRONG CIRCUS 1980
FRANZEN BROS, CIRCUS
LED LIT WHEEL
GRAFTON NORTH DAKOTA CIRCUS 1930
BAUDY'S GREYHOUNDS CIRCUS ANIMAL ACT
RINGLING BROTHERS BARNUM & BAILEY CIRCUS SETUP 1930s
CARNIVAL TRAIN
CASEY DESMOND "TILT ME BACK"
NOTTINGHAM GOOSE FAIR
EDWARD DANTERS SUPERBOWL RIDE
SATORI TECHNO JUMP RIDE
HARD ROCK RIDE