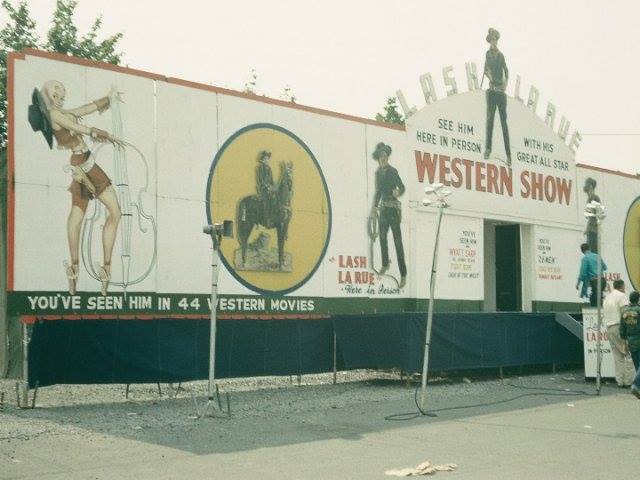 Lash La Rue Could Really Crack A Whip
The Good Guy Cowboy Hero That Always Wore Black
Alfred "Lash" La Rue (June 15, 1917–May 21, 1996) was a popular western motion picture star of the 1940's and 1950's.
Lash La Rue comic books sold over one million copies around the world.
LaRue, who adopted the nickname Lash after he picked up his whip, was originally named Albert. He was born in Gretna, La., and, after attending the College of the Pacific, he worked as a real estate salesman and later acted on the stage. A colorful storyteller, he liked to say that he had done a screen test for Warner Brothers but had been turned down because he looked too much like Humphrey Bogart, one of the studio's biggest stars.
Whatever the facts, for several years he struggled playing bit parts. His big break came with the 1945 film "Song of Old Wyoming," in which he played the Cheyenne Kid, a hero who violated Hollywood convention by wearing black and riding a black horse, named Rush. He made an instant impression by picking a flower for his paramour with a flick of his bullwhip.
"The usual cowboy hero won because goodness prevails," said Dennis Rogers, a columnist at The News and Observer in Raleigh, N.C., who knew Mr. LaRue and wrote about him. "Lash won because he was just tougher than anybody else. He did it by being badder than the bad guys."
The film spawned a series of bullwhip westerns, including "Law of the Lash," "The Caravan Trail," "Border Feud" and "Mark of the Lash." All were low-budget shoot-'em-ups with Mr. LaRue appearing as the Cheyenne Kid or as Lash LaRue. Connoisseurs of the genre hold "King of the Bullwhip" (1951) in particularly high regard.
When television killed the B western, Lash LaRue survived by playing character roles. His last film, made in 1961, was "Please Don't Touch Me." From 1952 to 1953 he was the host of "Lash of the West," a showcase of his westerns. In 1959, he played Johnny Behan, the corrupt sheriff on the television show "The Life and Legend of Wyatt Earp."
When his acting career ran out, he took his bullwhip on the road, traveling with circuses, carnivals and Wild West shows. He soon fell on hard times. In 1966 he was arrested in Miami for vagrancy, with only 35 cents in his pocket. Later he became an evangelist working with alcoholics in St. Petersburg, Fla.
In 1980, he experienced a resurgence, as nostalgia film clubs found that they could afford to hire LaRue to appear at their film festivals. In 1986 he appeared in the television remake of "Stagecoach."
He was the classic cowboy, a man who still wore boots and bolo ties. When his trademark black shirt showed signs of fading, Lash LaRue would discard it for a new one.
After decades of popularity, interest in westerns faded and he was forced to make a living from appearances at fairs and conventions for western film buffs.
Problems with the Internal Revenue Service and alcohol made it difficult for him to work in later years.
He had exceptional skill with the bullwhip and taught Harrison Ford how to use a bullwhip in the Indiana Jones movies.
[kkytv id="yPk4gx0MCbE" width="640″ height="385″]